For Cleaner, Healthier Indoor Air, Start with a Gas Air Test
Allergies? Asthma? Respiratory issues? If you or anyone in your home experiences these conditions, a professional gas air test from Bryko Heating & Air Conditioning Co. can help you identify unhealthy airborne particles and contaminants that can aggravate these conditions. Even if you don't have health concerns, this test can provide you with the peace of mind that the air inside your home is as clean and healthy as it can be.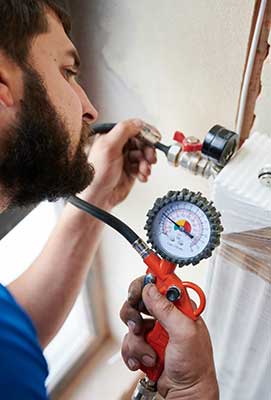 What Is a Gas Air Test?
A gas air test is an indoor air quality test that checks for harmful contaminants in your home's indoor air. These contaminants include radon, mold, volatile organic compounds (VOCs), asbestos, pesticides and more. Indoor air contaminants can come from a variety of indoor sources, including cleaning products and building materials. They can also come from outdoor sources, such as farms and manufacturing facilities.
While the filter on your home's HVAC system captures some airborne particles and contaminants inside your home, its primary purpose is to keep your HVAC system running efficiently. The HVAC filter is not meant to provide full protection of your indoor air quality. For this reason, many homeowners opt to have professional testing done to check for indoor air contaminants, especially if they have respiratory-related health issues.
What Does the Test Look For?
Gas air testing can look for the presence of any of the following harmful contaminants in your home:
Radon
Mold
Volatile organic compounds (VOCs)
Asbestos
Pesticides
Combustion pollutants
Formaldehyde
More
If any of these contaminants are found in the air inside your home, one of our indoor air quality experts can help you make a plan for remediation.
Schedule an Appointment Today
Let Bryko Heating & Air Conditioning Co. be your source for cleaner, healthier indoor air. For more information about indoor air quality or to schedule an appointment for a gas air test, please contact us at (901) 386-2538 or submit the contact form today, and we'll get you scheduled right away.